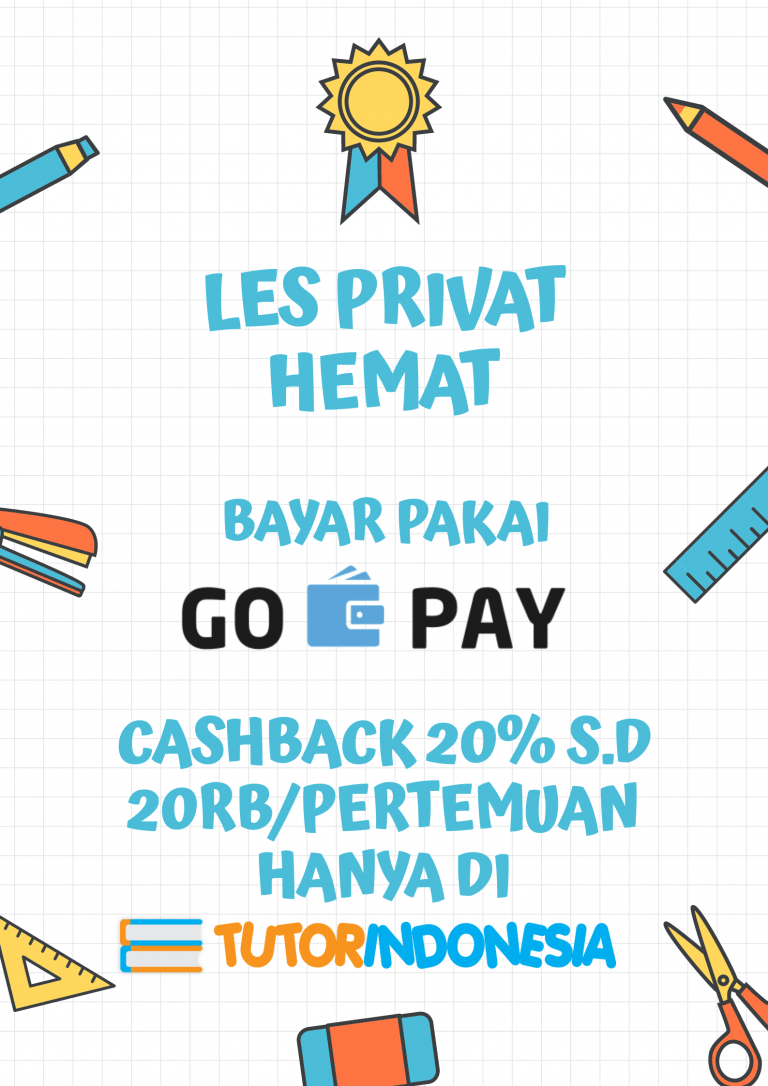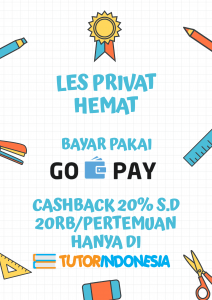 Lagi lagi TutorIndonesia memberi promo yang menarik untuk siswa, kali ini TutorIndonesia bekerja sama dengan Gojek dan Gopay Indonesia dengan pembayaran yang mudah dan murah tentunya.
Bagaimana tidak? TutorIndonesia sudah menerapkan tarif yang murah, ditambah dengan promo cashback 20% up to 20.000/pertemuan, menjadikan orang tua tidak merogoh kocek terlalu dalam untuk les privat anak-anak mereka.
Sebagai contoh: Les privat TK Calistung dan Mengaji anak-anak di TutorIndonesia sudah terkenal yang '"paling hemat" seharga 99rb/pertemuan (1.5 jam), Jika bunda menggunakan pembayaran Gopay, maka bunda mendapatkan cashback 20% 19.800/pertemuan. Artinya Bunda hanya membayar sebesar Rp. 79.200/pertemuan untuk les anak bunda. Wah benar-benar angin yang menyegarkan untuk para bunda yang peduli akan pendidikan anak di rumah.
Mau tahu caranya menggunakan metode Gopay dan dapat Cashbacknya?

Pastikan orang tua siswa/siswa mempunyai aplikasi Gojek
Setelah selesai belajar privat, tutor akan memberikan kode QR untuk discan oleh orang tua siswa
Buka aplikasi Gojek, kemudian klik Bayar
Lakukan scan pada kode QR yang telah diberikan tutor
Orang tua memasukan nominal sesuai dengan harga per pertemuan
Masukan PIN GOPAY
Setelah pembayaran berhasil, maka cashback 20% up to 20.000 masuk ke saldo Gopay siswa secara otomatis
Lakukan pembayaran dengan menggunakan Gopay setiap les selesai.
Untuk informasi Promo Gopay dan Pendaftaran hubungi kak Mutia 0877-8160-9961